UWELL HAVOK V1 POD MOD STARTER KIT
Havok V1 presents an impressive and handsome pod system that is suitable for MTL as well as DTL, or RDL, and therefore meets almost all requirements. The smooth logo and matt surface look exquisite, of course, it is comfortable to hold and feels good in the hand. A resin-style panel is embedded on one side of the device. In addition to the standard power button and a pair of adjustment buttons on the control panel, a 0.96-inch OLED screen for a clear display of all data is added. The upgraded Type-C port is located at the bottom of the device. The battery capacity of the device is 1800mAh with a 65W max output, it's sufficient for your whole day vaping and cloud chase. Fast charging at 5V/2A high charging rate through Type-C port. There's no draw activation on this, you have to press the button to fire. With a single button control quickly click the fire button 5 times to turn on/off the device, safe and reliable. Driven by a smart chipset, the Havok V1 can auto-detect the installed coil and matches the wattage accordingly to improve coil lifespan. The chip has multiple circuit protection functions to supply stable, safe, and reliable performance. In addition, Havok V1 also comes with a Puff counter and device lock function: Puff counter records your daily usage. Press the fire button and "-" button at the same time to Lock/unlock the device, prevent the accidental operation from causing equipment failure.
Havok V1 Pod is made from a dark translucent PCTG that uses magnets to stay at the top of the device. It is a refillable pod with top filling, cost-effective to use. The capacity is 4ml, with a sliding cover top filling system. Designed to minimize leakage and for easy refilling. The filling mechanism is super easy, no need to pull the pod out, just slide the top section and you get a silicone seal, push the juice bottle nib in, and you're done, no mess! The drip tip is a non-removable sort and is about the same size as a 510. On the side of the cartridge, the airflow is adjustable through sliding up or down the contraption. Sliding up to increase the airflow, sliding down to decrease the airflow. You can almost block out the airflow while it's slid up. The airflow can be adjusted as you want to explore your ideal vape experience. The two coils included in the Havok V1 kit are 0.25ohm UN2 Meshed-H DTL coil; 0.6ohm UN2 Meshed-H MTL/RDL coil. The Pro-FOCS flavor testing technology has been used on these two coils that will give you an excellent vape experience. A simple coil installation process makes for a hassle-free changeover of coils when necessary.
Features:
1. Pro-FOCS flavor testing technology
2. Intelligent Coil Recognition
3. 1800mAh Internal Battery
4. Max 65W Wattage Output
5. 0.96-inch OLED screen
6. Type-C USB Port - 5V/2A Fast Charging
7. Puff Counter
8. 4ml Refillable Pod
9. Sliding Top Cap - Top Fill System
10. E-liquid Level Window
11. Airflow Valve - Adjustable airflow
12. Removable Coil (Included 0.25ohm/0.6ohm UN2 Meshed-H Coil)
13. New Uwell Havok Coil Series
14. Magnetic Pod Connection
15. Multiple Circuit Protection Functions
Brand: Uwell
Unit: 1 Set
Material: PCTG, Aluminum Alloy
Size: 100 mm * 42.9 mm * 19.2 mm
E-Liquid Capacity: 4 ml
Filling Type: Sliding Top Filling
Wattage Range: 5-65 W
Battery Capacity: 1800mAh
Coil Specification: FeCrAI UN2 Meshed-H 0.25ohm HAVOK V1 Coil (40W-45W)
FeCrAI UN2 Meshed-H 0.6ohm HAVOK V1 Coil (20W-25W)
Charging Port: Type-C
Screen: 0.96-inch OLED screen
Each set contain:
1pc HAVOK V1 Pod Mod
1pc UN2 Meshed-H 0.25ohm HAVOK V1 Coil (Pre-installed) (DTL)
1pc UN2 Meshed-H 0.6ohm HAVOK V1 Coil (MTL/RDL)
1pc Pack of O-rings
1pc User's manual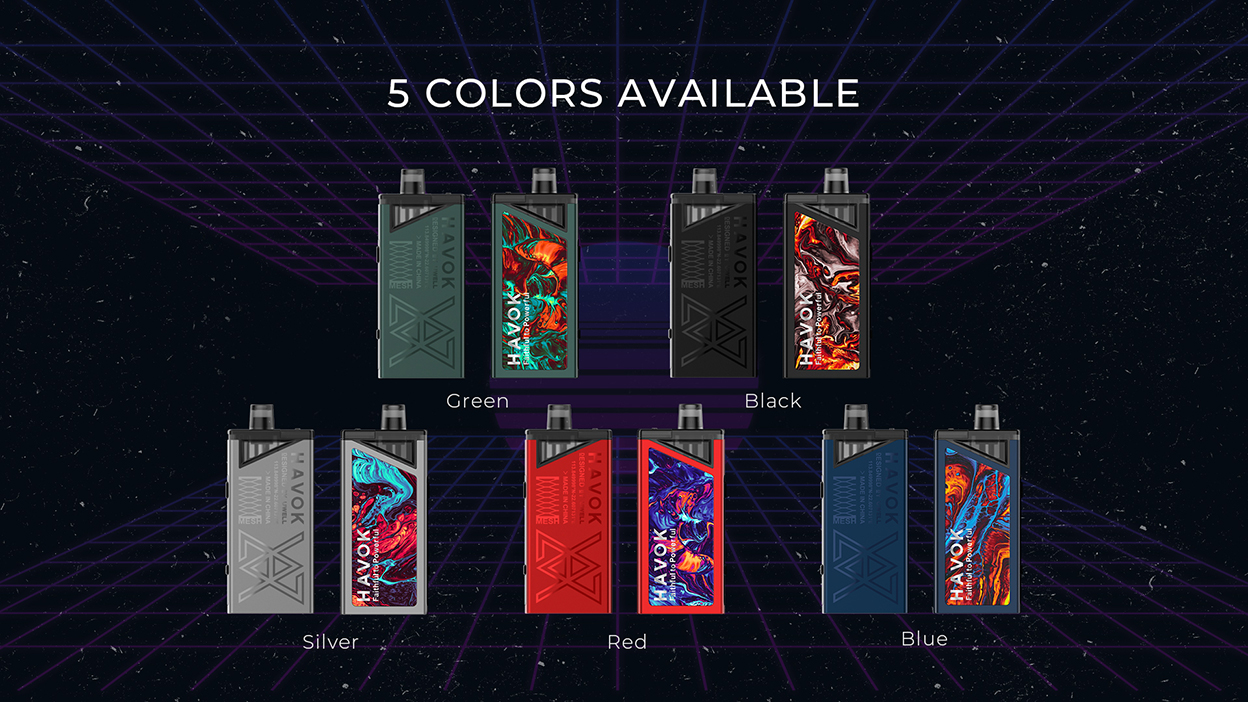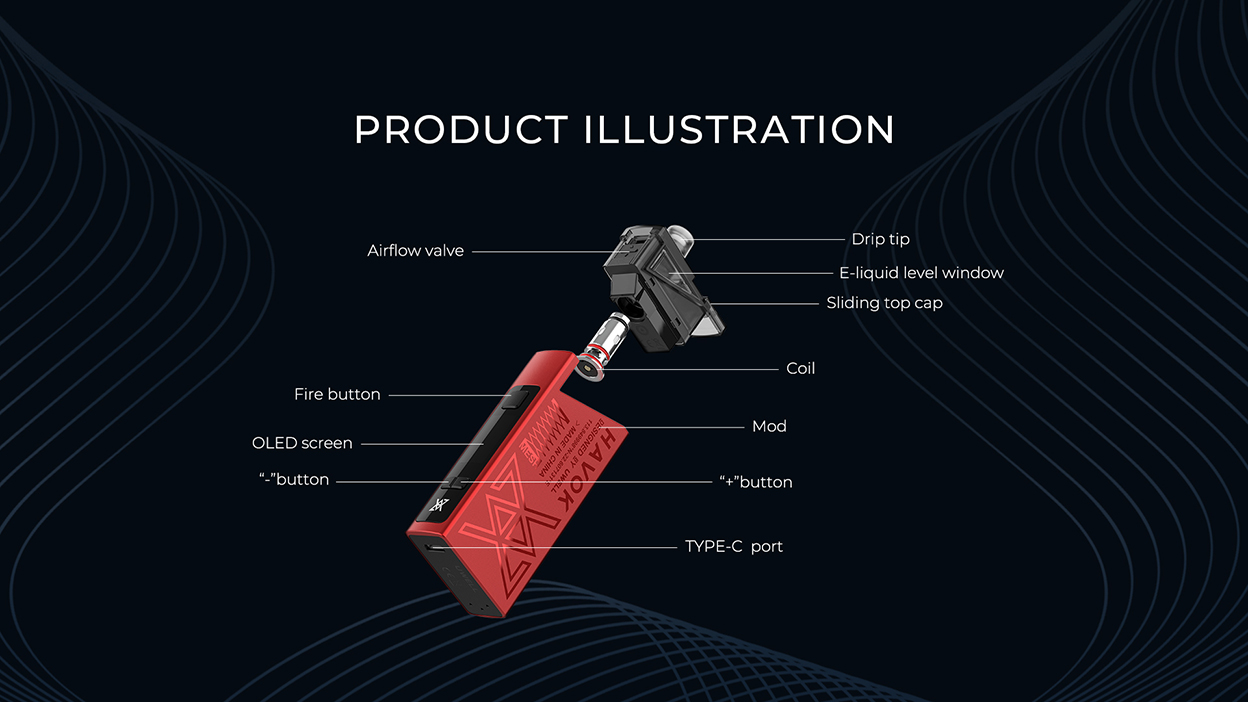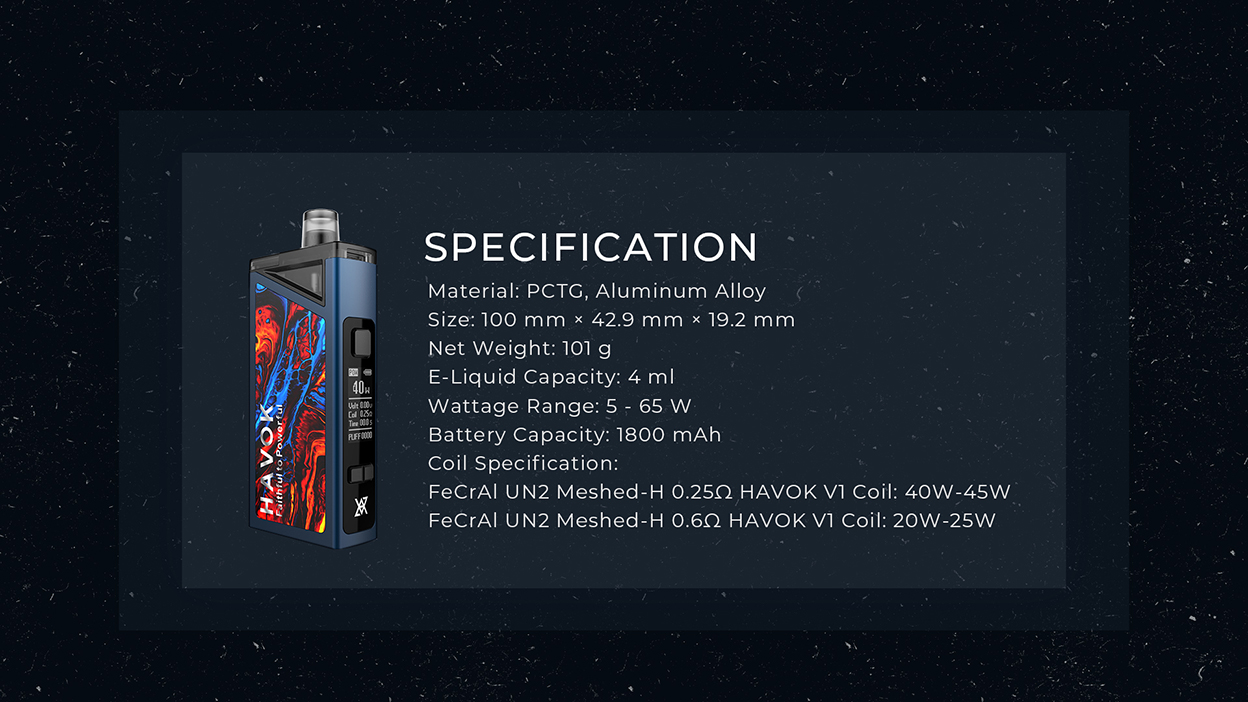 Recommended Products
Product title
$19.99 | $24.99
Product title
$19.99 | $24.99
Product title
$19.99 | $24.99
Product title
$19.99 | $24.99