VOOPOO DRAG MAX 177W Pod Mod Kit
VOOPOO Drag Max is made of soft leather and cold tough metal, ergonomic size, the collision of leather and metal brings a luxurious, comfortable, and durable holding experience. DRAG Max is powered by two external 18650 batteries to provide long-term standby energy. And equipped with a fast-charging system, 5V/2A Type-C fast charging can increase the charging speed by 50%. Stay powered for all-day long. The core innovative design of Drag Max uses the flagship GENE.FAN 2.0 chip, which has stronger explosive power, more stable output, and more intelligent functions. Provides a maximum power output of 177W, 0.001s extreme ignition, dynamic stable output, SMART and RBA modes, and comprehensive safety protection functions. In addition, Drag Max is equipped with a 1.08-inch TFT color screen for a clear display of various vape data and designed two different styles of UI themes. At the same time, press "+" and "-" to enter the UI switching interface.
DRAG Max vape kit is equipped with a magnetic atomizer. DRAG Max Pod is one of the PnP Atomizer Platforms Pod. It has a 4.5mL e-liquid capacity. Compatibility with the full array of VOOPOO PnP Coils. It can be refueled or replaced easily by pulling it gently. Bring a more convenient and user-friendly experience. In addition, DRAG Max is also suitable for every Pod in PnP Atomizer Platforms. They can be quickly connected to the device via magnetism, and enjoy a low-cost universal PnP Pod system and multiple vape experiences. Drag Max will be the ultimate solution for performance and ease of use.
Features:
Dual 18650 Batteries (not included)
5V/2A Type-C Fast Charging
Max 177W Output Power
Brand New GENE.FAN 2.0 Chip
SMART mode for beginners
Power-free RBA mode desired by professional players
Dual UI Theme Interfaces
PnP Magnetic Atomizer
Suitable for Multiple PnP Models(PnP Pod/PnP MTL Pod/PnP RTA Pod)
Compatible with All PnP Coils
Brand: VOOPOO
Unit: 1 Set
Size: 122mm(Height) * 50.25mm(Width) * 25mm(Thickness)
Mod Material: Leather + Zinc Alloy
Leather + Zinc Alloy Dual 18650 (Excluding battery)
Charging Type: Type-C 5V/2A
Output Power: 5-177W
Output Voltage: 6.4-8.4V
Resistance: 0.1-3.0ohm
Display: 1.08 inch TFT Color Screen
Pod Capacity: 4.5ml (TPD: 2ml)
Fill Type: Bottom Fill
Pod Material: PCTG
Resistance: 0.2ohm (PnP-VM5), 0.15ohm (PnP-VM6)
Protections: Overtime/Short-circuit/Overcharge/Output Over-current/Over-Discharge/Over-temperature/Balance Charge with Different Brand Battery/Battery Reverse Protection
Each set contain:
1pc DRAG Max Device
1pc PnP Pod (4.5ml)
1pc PnP-VM5, 0.2ohm
1pc PnP-VM6, 0.15ohm
1pc Type-C Cable
1pc User Manual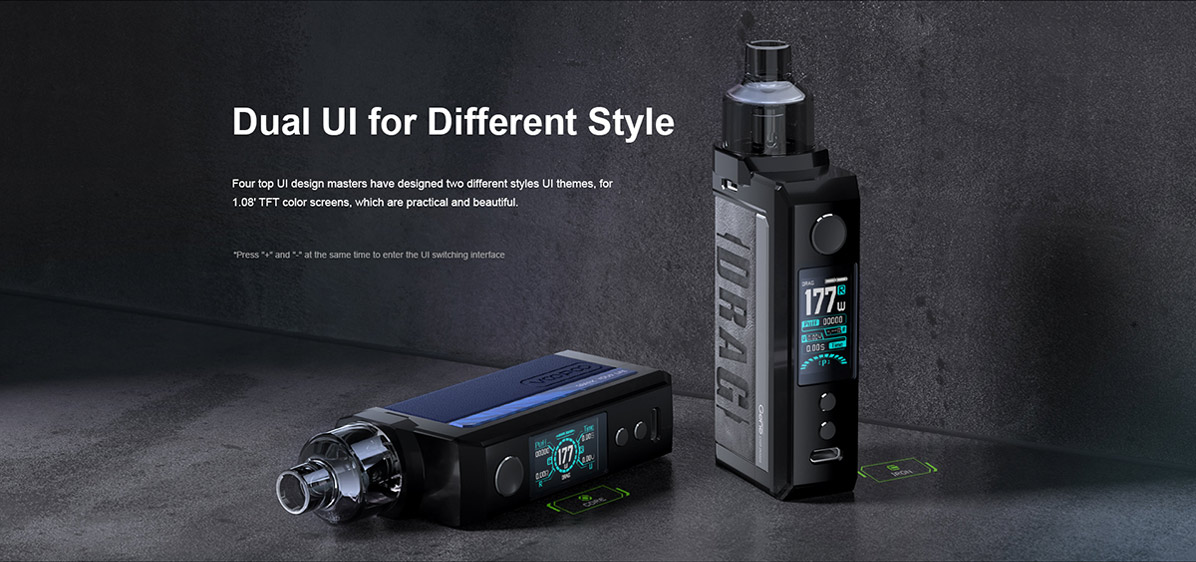 Recommended Products
Product title
$19.99 | $24.99
Product title
$19.99 | $24.99
Product title
$19.99 | $24.99
Product title
$19.99 | $24.99